Getting started with Quipper School Create
Single choice questions present a student with a multiple choice question that has only one correct answer.
---
Creating single choice questions
---
Step 1. Single choice is the default setting for new questions. However, you can select question types at any time by clicking the Question Type drop down arrow.
---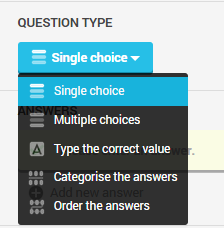 ---
Step 2. Enter between 2 and 10 different answer options. Hit Enter/Return on your keyboard or click + Add new answer to create additional answer options.
---

---
Step 3. The first answer option is labelled correct by default. If this option is not correct, click the ✓ button next to the correct answer to select it.
---

---