Getting started with Quipper School Create
Correct value questions require a student to input a specific value when answering.
---
Creating correct value questions
---
Step 1. Select question types at any time by clicking the Question Type drop down arrow.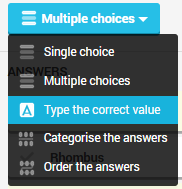 ---
Step 2. Enter the exact values that are considered correct, separated by a comma.

Note: Answer inputs are not case sensitive. You do not need to enter all combinations of upper- and lower-case letters.
---